Dré vindt stoofperen het lekkerst als ik er verder niks mee doe. Gewoon in water met flink wat kaneel. Lang laten stoven en ze worden vanzelf rood.
Maar af en toe mag ik los. Dan gooi ik alle smaken bij elkaar en maak ik droomperen.
Mijn kinderen zijn er gek op! 
Ingrediënten
8 mooie stoofperen (Gieser Wilderman)
100 gr. perensuiker en een zakje vanillesuiker
Vanillestokje
2 kaneelstokjes
2 kruidnagels
1/2 liter rode wijn
steranijs 2 sterretjes
Rasp van een 1/2 sinaasappel
Een scheutje Cointreau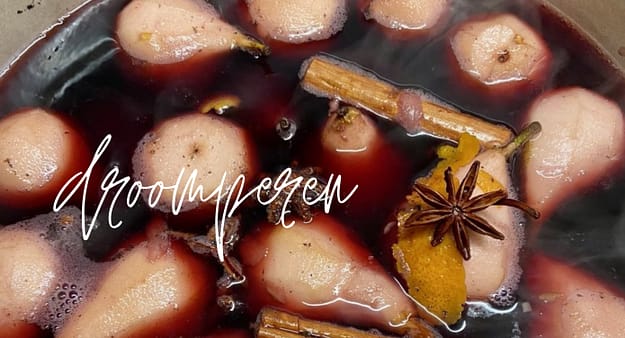 Bereidingswijze
Schil de peren en laat de steeltje er aan zitten. Snij een heel klein plakje van de onderkant zodat ze kunnen staan.
Doe in een pan de wijn, suiker, kruidnagels, kaneelstokjes, sinaasappelrasp, anijs en met merg van het vanillestokje. Zet de peren er rechtop in.
Vul aan met water of bessensap. Of alleen maar rode wijn, dat is ook lekker maar niet erg kindvriendelijk. Als er kinderen mee-eten dan laat je gewoon de alcohol weg. Ook lekker!
Laat de peertjes hierin langzaam stoven op heel zacht vuur tot ze mooi rood zijn. Minstens anderhalf uur maar langer mag! Je huis gaat er heerlijik van ruiken.
Neem de peren uit de pan en zet ze op een platte schaal.
Bind het kookvocht met wat aardappelmeel en een scheutje Cointreau en laat het een beetje indikken.
Giet het mengsel over de peren ze gaan er prachtig van glimmen!