Bietola… we zagen de kleine plantjes in het tuincentrum en dachten dat het bieten waren. Maar het was dus snijbiet. Een beetje een vergeten groente in Nederland maar niet hier in Italie. Dus bedacht ik een recept.
Ingrediënten voor twee personen:
Twee flinke struiken bietola of snijbiet
3 gekookte aardappels
150 gram ventricina of gerookte spekblokjes
(Ventricina is een pittige worst uit Molise)
1 gesnipperde rode ui
1 teen geperste knoflook
beetje olijfolie
Ik haalde twee grote struiken bietola uit de moestuin. (spreek uit: biejéétolaa) In Nederland noemen we het snijbiet. Het gedraagt zich net als spinazie, het slinkt tijdens verwarmen.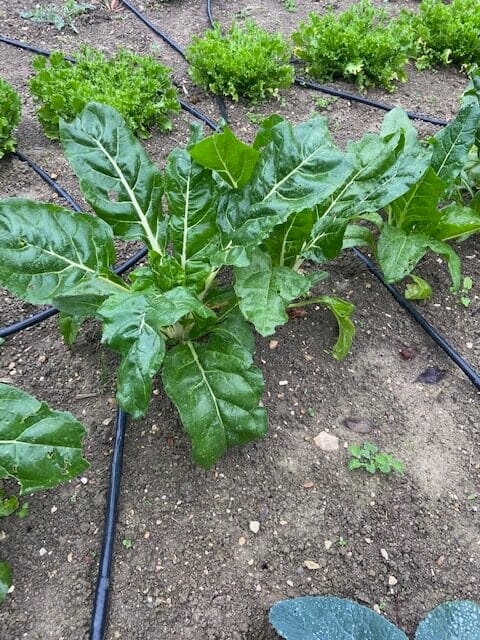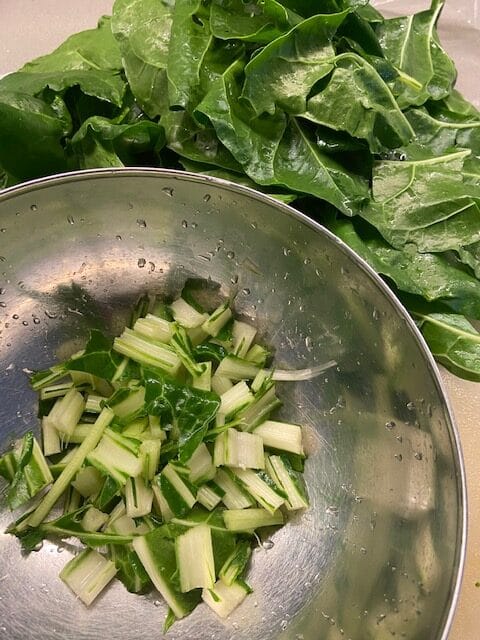 Was de bladeren en snij de nerven uit het blad. Hou die apart. Het duurt namelijk iets langer voordat de nerven gaar zijn.
Snipper een rode ui en pers een teentje knoflook uit. 
Snij de ventricina in kleine stukjes en bak deze of de spekblokjes in een pan met een klein scheutje olijfolie. 
Als de uit glazig is voeg dan de bietola-nerven toe. Bak vijf minuten mee.
Voeg daarna het bietola-blad toe en laat slinken en gaar worden.
Stamp de gekookte aardappels erdoorheen en strooi er parmigiano reggiano over.
Ik maak het van te voren klaar zodat de smaken lekker samenvoegen. Vlak voor het eten een kwartiertje in de oven.
Oja.. wij doen er een kalfslapje met jus bij, maar dat hoeft natuurlijk niet.