Omdat je in Italië niet echt dat lekkere verse Hollandse brood kunt kopen heb ik een broodbakmachine die overuren draait. En af en toe probeer ik iets uit. Zo zijn deze kaasbroodjes ontstaan.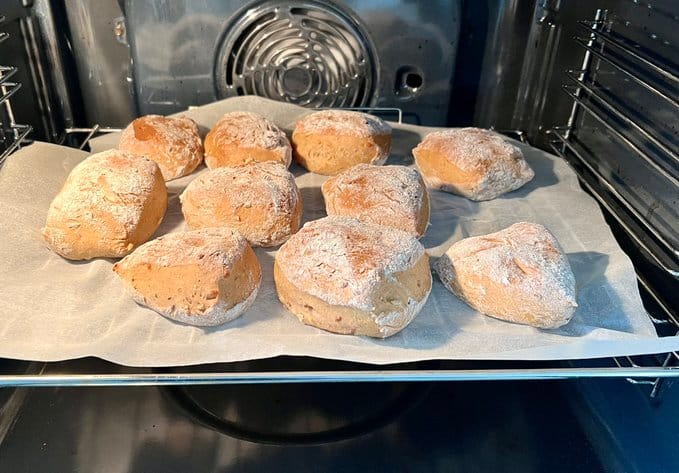 Ingrediënten
400 gram volkorenmeel met pitten van de Welkoop.
270 ml. water
Parmezaanse kaas 200 gram
Een broodbakmachine en een oven.
Bereiding
Verwarm de oven voor op 180 graden
Maal de kaas maar niet te klein. Stukjes van ongeveer een halve cm.
Doe alle ingrediënten in de broodbakmachine. Eerst het mee, dan de kaas een beetje door het meel zodat het niet gaat plakken en daarna het water.
Zet de machine op het programma volkorenbrood kneden. (Dus niet bakken)
Leg op een bakplaat of rooster een vel bakpapier.
Als het deeg klaar is haal je het voorzichtig uit het bakblik en leg je het op een met meel bestoven ondergrond.
Maak het deeg voorzichtig iets platter en snij er porties van.
30 tot 40 minuten in de oven op 180 graden. Je kunt op het laatst een plakje kaas op de broodjes leggen en dan even mee laten bakken.
Laat je weten of ze zijn gelukt?