Wie kent ze nou niet? Het recept is ook wel bekend, dacht ik. Toch kreeg ik veel vragen na het serveren van deze wentelteefjes bij het "olijvenoogstontbijt". Misschien omdat de mensen al een uurtje hadden gewerkt in de boomgaard? Of misschien omdat ik het bruschettebrood gebruik wat de Italianen in de supermarkt verkopen. Ik noem het "oud brood".
Dit gerecht is door het gebruik van suiker misschien niet zo gezond en zeker niet calorie-arm. Maar het is wel een erg lekker ontbijtrecept. Gewoon niet te vaak doen.
Nodig voor vier wentelteefjes:
vier sneden oud brood of twee sneden Italiaans Bruschetta-brood
2 eieren
scheutje melk
kaneel en suiker
boter om in te bakken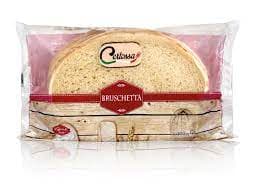 Bereiding:
Meng de kaneel en suiker tot kaneelsuiker.
Klop de eieren los met wat melk en kaneelsuiker
Laat de boterhammen even om en om in het mengsel liggen en laat ze daarna uitlekken.
Doe wat boter in een hete pan.
Bestrooi de broodjes met extra kaneelsuiker, de suiker karameliseert als je ze gaat bakken.
Bak om en om de wentelteefjes goudbruin.
Strooi er op het laatst nog een beetje kaneelsuiker overheen.