Comfort food, er is geen Italiaanse term voor. Of is gewoon ál het eten in Italie comfort food? Feit is dat deze lasagne het lekkerst is als je hem een dag van tevoren maakt. Vlak voor een dag dat je erg druk bent bijvoorbeeld, of visite krijgt.
Het is even een werkje, maar dan héb je ook wat!
Ingrediënten: voor ongeveer 6 personen
250 gram van de aller-dunste lasagnebladen die je kunt vinden
Italiaanse kruiden
2 courgettes
1 lange aubergine
1 grote paprika
2 uien
3 tenen knoflook
500 gram champignons
Minstens 250 gram geraspte kaas
30 gram roomboter
Melk
2 flinke eetlepels bloem
Tomaten 6
2 potten pastasaus met basilicum (ik gebruik altijd die van de Lidl)
Twee handen vol zwarte olijven
Potje tomaten pesto of een 50 gram ansjovisfilets, fijngehakt
Olijfolie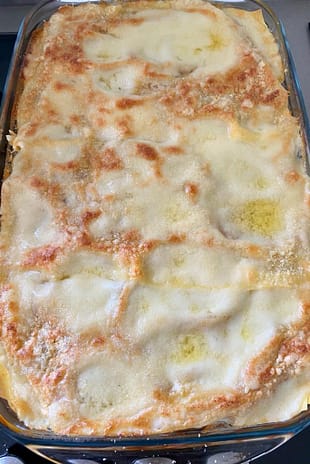 Bereiding:
Snij de aubergines in plakken van 1 cm dik
Snij de courgettes in lengte tot plakken van een halve cm.
Snij de grote champignons in dikke schijven, de rest mag heel blijven
Snij de paprika in lange repen
*Grill alle groenten op de barbecue.
Maak een, niet te dikke, bechamelsaus van de boter, de melk en de bloem. Schep er drie flinke eetlepels kaas door en een beetje peper en zout naar smaak.
Snij de uien en de knoflook klein en fruit aan in olijfolie. Als je ansjovis gebruikt laat die dan mee-fruiten (smelten) Doe de pastasaus erbij en eventueel de pesto. Maak op smaak met Italiaanse kruiden. Schep er twee eetlepels kaas door.
*Ik doe altijd met een kwastje een klein beetje olijfolie op de lasagnevellen, maar dat hoeft niet)
Doe een dun laagje bechamelsaus op de bodem van een ovenschaal.
Dek af met lasagnebladen
Weer een laagje bechamel
Snij de tomaten in plakken en leg die op de bechamel
Doe een paar scheppen tomatensaus op de tomaten
Bedek met lasagnebladen
Dan weer een laag tomatensaus
Daarop de aubergines en de courgettes
Tomatensaus
Lasagnebladen
Verdeel de paprika over het gerecht en daaroverheen alle champignons
Voeg nu de rest van de tomatensaus toe
De laatste lasagnebladen gaan erop.
Daarop de rest van de bechamel
En op het laatst de rest van de kaas erover.
Twintig minuten in de oven op 200 graden en hóppa, je hebt een heerlijke lasagne.